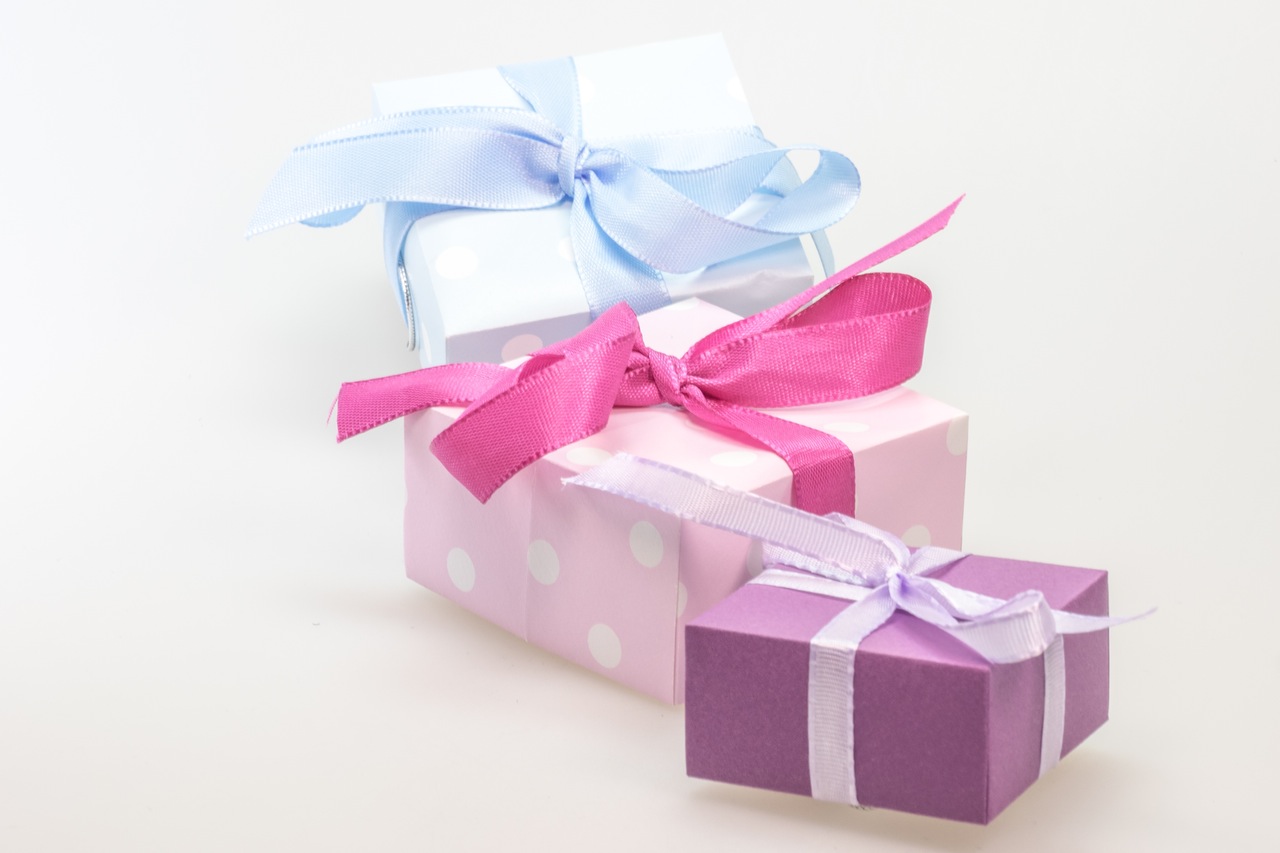 At Christmas we exchange loads of gifts, some gifts are exactly what we have been hoping to get and the others don't meet our expectation so we just say thank you while wishing the gift was something else. This quiet man was about to receive a gift, a gift he didn't particularly ask for but it would be the greatest gift he had ever received. The gift of a custodian.
He was a man of very few words but loads of conviction. We would see how his actions speak for him.
As He walked down the road, with the tools of his trade, the saw in his hand and the hammer, chisel, and other things in his work bag. He did not notice the sites and views he was accustomed to seeing on his trip back home.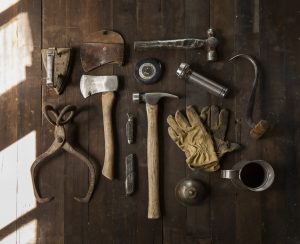 How did he get into this situation? He would have asked himself. On getting home, his thoughts would not go to rest. He had been an upright man and he thought he had his future all planned out. He had a modest career as a carpenter. It may not bring the wealth of the nations but it contented him that he would be able to support his family. His family? He could not believe what Mary had told him. Mary was an upright damsel and he had thought that after the betrothal period he can marry her and build his own family. But all that dream is crashing down his head. Mary is pregnant.
Joseph would have to battle the emotions of his betrayed confidence, angrier and disappointment. How could Mary do this? He would not go ahead with his marriage to Mary. He must break this engagement. But if he did separate from this engagement, and Mary's situation is known publicly, she would be stoned to death.
Joseph decided to separate from Mary privately. Though she has disappointed him in this engagement, he would not place the death sentence on her. He would not judge her but leave her to God. This was Joseph's resolve. Later Joseph slept and his life would not be same when he woke up.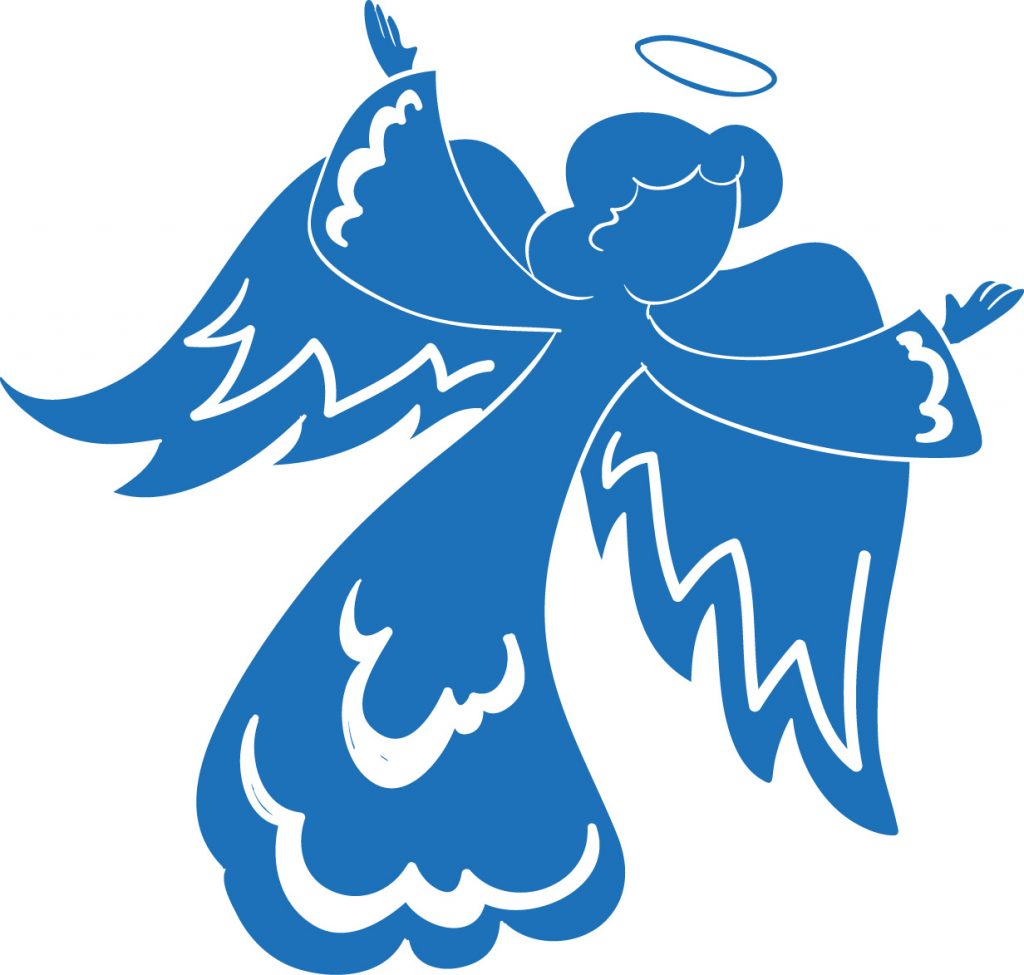 Matthew 1
20 As he considered this, an angel of the Lord appeared to him in a dream. "Joseph, son of David," the angel said, "do not be afraid to take Mary as your wife. For the child within her was conceived by the Holy Spirit. 21 And she will have a son, and you are to name him Jesus,[i] for he will save his people from their sins."
22 All of this occurred to fulfill the Lord's message through his prophet:
23 "Look! The virgin will conceive a child!
She will give birth to a son,
and they will call him Immanuel,[j]
which means 'God is with us.'"
The manner in which the angel addressed Joseph would have caught his attention. The angel drew his attention to his lineage. Joseph father's name was Jacob, so for the angel to address him as the son of David would trigger what Joseph knew about his linage and what has been prophesied about his lineage.
Joseph was from the linage of King David and he would have known the Messiah was to come from the line of David. The angel told him that Mary's baby was conceived by the Holy Spirit, and it was a fulfilment of prophecy. So Mary had not betrayed him. God wanted Mary to bear the Messiah as a virgin and he Joseph a mere carpenter to be the custodian of the Lord's Messiah and marry Mary. God gave Joseph direction and when he woke up from his sleep, he completed the wedding ceremony and married Mary but He did not sleep with until after Jesus was born. To fulfil the prophecy that a virgin will give birth to a son.
God recognized and saw Joseph the carpenter. He was not a rabbi, but God testified that this man of little words was an upright man. Joseph took God's direction to heart and obeyed Him immediately. Joseph was also a man of self-control.
Though we are not given the number of months that Mary was pregnant before her wedding to Joseph. But a good calculation would say she was at least 3 months pregnant. Remember that when Mary became pregnant by the power of the Holy Spirit she went to see her cousin Elizabeth and stay with her for 3 months.
Joseph had all the responsibility and duty of a husband but not all the benefits that came with it. He could not lay with his wife for at least 6 months until after the birth of the Messiah, and he also would have to wait for Mary to complete her purification period after childbirth before he could lay with her.
Joseph, a man of few words, was an upright man, a man of integrity, a man who would obey his God even if his rights and pleasures are delayed.
A census was declared and now Joseph had to take his pregnant wife Mary to Bethlehem. Joseph obeying the census call was actually fulfilling what God had written.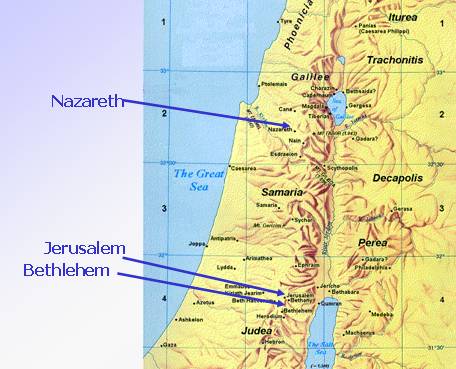 Micah 5:2
But you, O Bethlehem Ephrathah, are only a small village among all the people of Judah.
Yet a ruler of Israel, whose origins are in the distant past, will come from you on my behalf.
He had to travel over 111 km from the village of Nazareth in Galilee to Bethlehem in Judea with a pregnant Mary. On getting to Bethlehem he could not secure any form of accommodation and the only lodging he could get was in a manger. And Mary brought forth the Lord's Messiah in a manger.
And I wonder what would Joseph have made of these? Would he have thought all I could provide for the Messiah was a manger?  But the visit of the wise men and the shepherds would have encouraged his faith that indeed this child, though born in a manger has been announced by God to the wise men and the shepherds.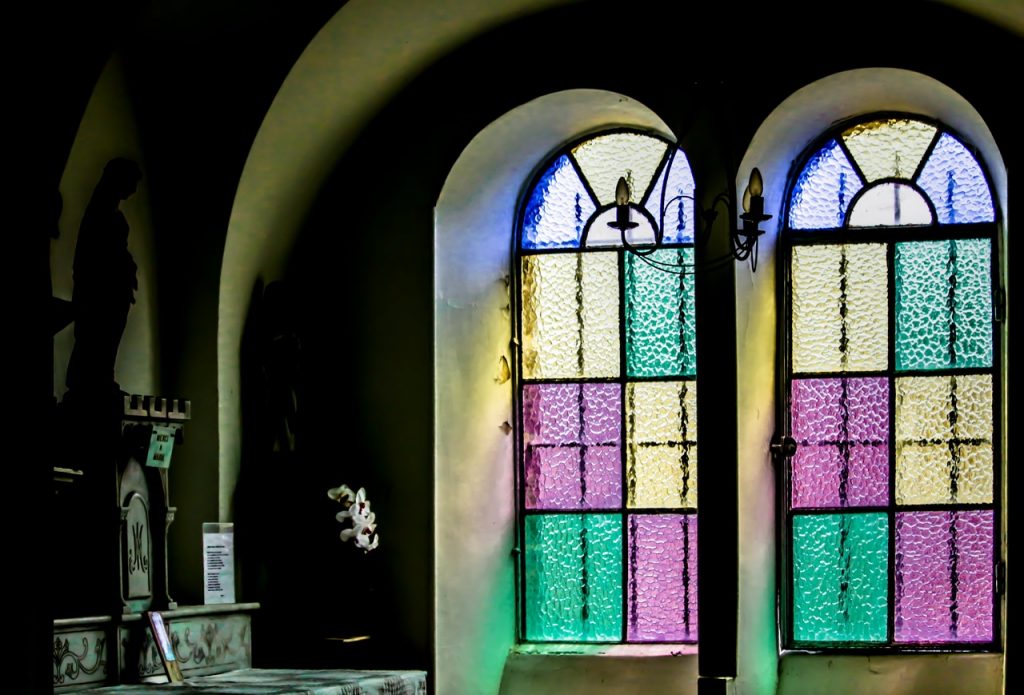 And in keeping with the law on the eighth day, Joseph took the baby to be circumcised and called his name Jesus. And when the time for Mary's purification was complete, which was 33 days after the birth of a male child, Joseph took Mary and Jesus to the temple to present their sacrifice. In the purification sacrifice, they had the options of either to bring a one-year-old lamb for a burnt offering and a young pigeon or turtledove.  The gift that Joseph presented at the temple was 2 turtle doves, for he was not a wealthy man. Joseph did not take liberty with the gifts the wise men gave Jesus.
God always makes provision to ensure all people's gifts were acceptable irrespective of their economic conditions.
On completing their purification sacrifice, Joseph would again encounter another person Simeon. Simeon recognized Jesus as the Lord's Messiah and this astonished Joseph but he was also to learn that not everyone would welcome the Lord's Messiah. And as he is digesting Simeon message, then comes another prophet, Anna confirming what prophet Simeon had said and praising God.
Joseph was trustworthy with the resources given to his custodian.
……………………………………….
Joseph was about to witness an extraordinary event. Some Jewish people have seen and acknowledge the Lord's Messiah Jesus but Joseph was astonished by the visit of wise men from the east. They were not Jewish yet they travelled all this way to worship the Lord's Messiah: Jesus. If non-Jewish people acknowledged Jesus, indeed the salvation Jesus brought was not only to the Jewish people but to all people. For all people are his people.
Joseph was accepting of others. He permitted non-Jewish people into his abode because they had come to worship the Lord's Messiah.
He did not hinder others in their worship of the Lord.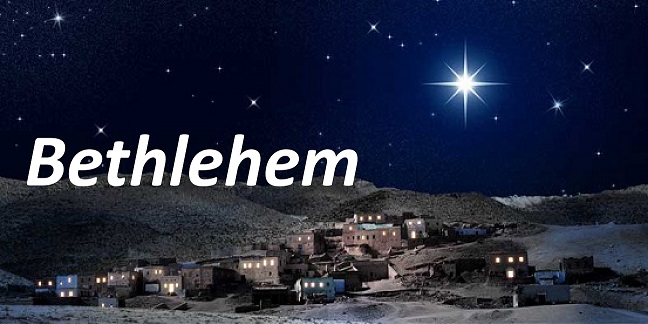 Joseph got another visit from an angel of the Lord. Joseph was warned by the angel to get up and to flee to Egypt.  From the astonishing experience of the Magi visit to be an instruction to take flight.
I wonder how Joseph processed that instruction. This child is the Lord's Messiah, and why Egypt of all places. Could they not go anywhere else within the land of Israel? I thought. Egypt was once an enemy of Israel.
But Joseph being a man of few words but action. He obeyed God. Joseph may or may not have ever been to Egypt before this instruction. Joseph got up immediately to make the trip from Bethlehem to Egypt which is about 690 km. He would be traveling with his young family which was under treat. He was going to an unfamiliar territory where he would have to set up his business, carter and protect his family.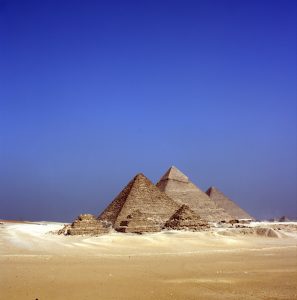 Joseph was quick to obey. Ready to protect that which God has committed into his hands. Traveling 690Km in those days would not have been an easy task let alone with a young family.
Joseph had been entrusted with the Lord's Messiah. The saviour was a baby and he had the duty to get him to safety. Though Joseph did not know why it was to Egypt they were to find safety he obeyed. God knew why it was to Egypt.  It was to fulfil another prophecy.
God's is more infinitely knowledgeable than us. So we should defer to His wisdom
Not many people want to play the part of Joseph in Nativity plays because he has only one line or no lines to say through the whole production of the play. I have now met Joseph, not as in the Christmas story acted out in schools. As I go to watch the nativity plays this year, I would see a different Joseph.
I would see a Joseph a man of few words but a man;
Not quick to judge others
Not publishing others inadequacies
Who knew his lineage and knew what has been prophesied about his lineage
Who obeyed God completely and selflessly
Who has self-control and who is law abiding
Who is accommodating and would not hinder others in their worship of the Lord
Of integrity who is also trustworthy
Who guarded that which God committed to his hand
The custodian of the Lord's Messiah: Jesus
I hope when you see Joseph in the Christmas cards or in the Nativity plays this Christmas, you will see him differently too.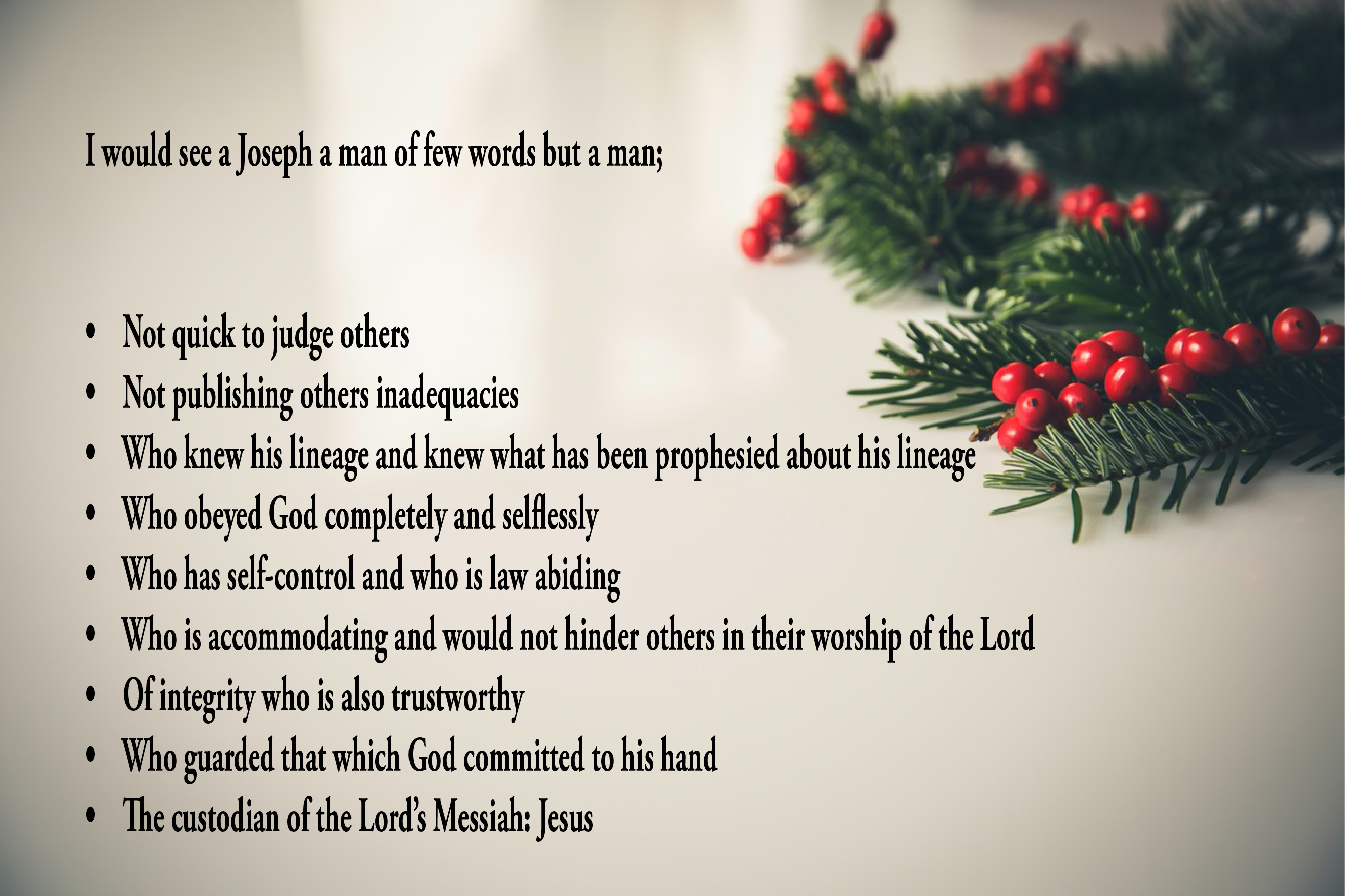 Merry Christmas
Matthew 1 &2, Luke 2, Exodus 13: 2 Leviticus 12:8 Micah 5:2